Devlog #80: Stress-related tweaks
---
Man, working on a game in one's spare time is difficult. Two weeks have passed from the previous blog entry and I only managed to spend ~15 hours in total of not-always-very-high-quality time working on the game.

However, this will change soon. I am taking a monthly leave from my day job in November and I will focus solely on developing Shardpunk in that period. This will allow me to see how I manage to cope with full-time development and what is my development speed when working at my full productivity.

Note that it will be a temporary change - meaning that I'll be back to part-time development in December. Still, with the experience from that full-time period, I will be able to define the game scope in a clearer way and set up a development plan - having that might help me find a publisher.

That being said, let's focus on the latest game changes!

I played around with the Stress mechanic a bit. First of all, I made sure that a character gets the "Stressed" trait (which gives some penalties) only if their Stress level is at maximum (it was a 50% threshold before that). I also introduced some random traits that make a character more/less stress-resistant by altering their maximum stress level:




These traits are randomly assigned to each character at the beginning of the game. And they're mutually exclusive, obviously.

Players now have a new way to reduce stress during battles - each character has the "Encourage" skill that lowers the Stress of a nearby ally.




Now, in order to make sure the players don't abuse that skill too much, it will have a long cooldown time (right now it is 5 turns, but it will surely be tweaked during the development). Obviously, players can still spend extra time during combat and reduce stress before going into the shelter, but due to longer wait times, it might not be the best solution - as the enemies will be swarming in all the time.

Oh, and I changed the way stimpaks handle stress. Previously using a stimpak would reduce your stress levels.

Some playtesters reported that they were using stimpaks only to reduce their stress level, as the aim penalty they got when the stress was too high was (literally, although not directly) killing them. So they used them even if their HPs were at maximum.

I didn't like where it was headed, so I made sure that using a stimpak actually increases your stress a little. This, combined with the "encourage" action and stress threshold increased to 100% should not make the game harder - and it will remove the stimpak stress reduction exploit.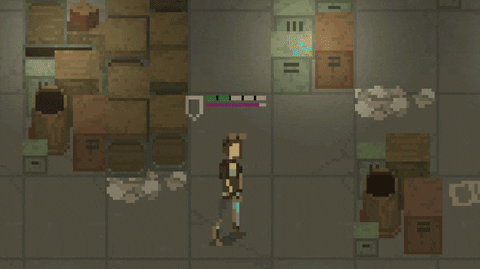 I will end this blog entry here. Take care! And enjoy a new character model, the female ranger: